I am selling this book so that my friend can return to the U.K. Please visit http://www.blurb.com/b/7207829-images-of-amsterdam. All profits will go to helping her.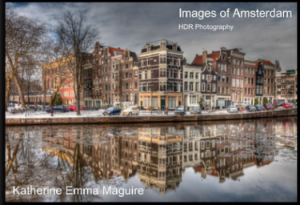 She is unable to work due to ill health, is currently homeless and sleeping on my sofa.
Her ill health includes Reynaud's disease, Emphysema, Bronchitis, Irritable Bowl Disease, Osteoarthritis, Rheumatoid Arthritis, Malnutrition, High Blood Pressure, Anxiety, Panic Attacks (due to being robbed in the street). Depression is her shadow, as she has not the finance, a family or supportive friends in the U.K. who could help her with the financial side of things.
I have created two campaigns to raise money, one for the U.K for those you want to donate in pounds and the other for Europe for those who want to donate in euros.
http://www.crowdfunder.co.uk/help-british-expat-to-repatriate-to-brighton
https://www.gofundme.com/helprepatriationuk
So if you want to help a person who is suffering with ill health and who does not have the resources to return to the U.K, then please donate using any of the above.
Thank you your time.